Meher Baba's spiritual center calls visitors to meditate and awaken their inner connections to God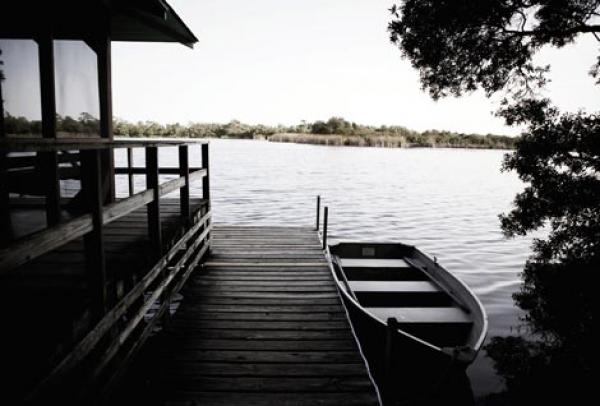 Northbound on Kings Highway one fine autumn day, I found myself stopped at a red light, living out one of those proverbial forks in the road.
Taking a left turn, I could follow the rumble and roar of a pack of motorcyclists joining the fall biker pilgrimage to the Grand Strand into the parking lot of Myrtle Beach Mall. I could hit a cosmetic counter or two, pick out a flashy new outfit, a pair of strappy high heels or maybe some baubles and bangles.
But my intended right-hand turn takes me along a rustic path into the pristine woodlands of the Meher Spiritual Center, "a place of pilgrimage for all time." Like a rest stop for the soul, visitors drop their "ego needs" at the door and come in soft-soled shoes to walk the quiet grounds near Long Lake, reflect, meditate and awaken their inner connection to God.
Except for the 400 or so local members of the Baba community and those in the "spiritual know," the center has always been somewhat of an enigma—still and unassuming. Until recently, the entrance was marked only with a small green gate that was barely noticeable.
It is the "home in the West" established for Meher Baba (1894–1969), a spiritual master from India who is considered by many thousands around the world to be "the Avatar, one who awakens humanity to the love of God."
The Avatar's intention was never to form a new church, but to renew the truth of love for God and fellow human beings inherent to the core of all religions. His mission was to "awaken divine love" and he spent his life in service to the poor, sick and needy.
He once said, "You have asked for and been given enough words—it is now time to live them." And to make that point stick, Meher Baba maintained silence for 44 years, communicating only by an alphabet board and hand gestures. He taught that real things and intuitive messages from God "are given and received in silence."
There are a handful of full-time residents on the site. Psychotherapist and devotee since 1971, Buz Connor, and his wife Wendy, have made the Meher Center the focus of their lives.
"Every 700 to 1400 years, an Avatar comes forward to teach and translate God's messages to the people in their language of the time—Christ, Buddha, Krishna and many more were all messengers—they come and give humanity a spiritual push when most needed," said Buz Connor. "There are many members of the Baba community who attend church services but also seek out the universal teachings of Meher Baba. It's like many beads on one string."
So with all the towns in all the states all across this nation, how did Myrtle Beach become the host of a spiritual awakening that took root halfway around the world before the age of mass communication?
That "bead on a string" would be Elizabeth Chapin Patterson, daughter of one of Myrtle Beach's founding fathers, Simeon B. Chapin.
Elizabeth was much like her entrepreneurial father, with a head for business and an eye for detail. During a 10-year stint in India, she became a disciple of Meher Baba, and in the early 1940s Baba asked Elizabeth and fellow disciple Princess Norina Matchabelli to found a center for his work in the United States, with these stipulations: The place had to be of equitable climate, virgin land, fertile soil and ample water. And even more importantly, the land had to be "given from the heart."
Starting on the west coast of America, the Baba ladies searched the country for nearly two years with no luck. That is, until they came to Myrtle Beach in 1943 for Easter to visit Elizabeth's father.
Elizabeth recalled seeing a place "in the wilderness north of town" back in 1934 that had seven freshwater lakes adjacent to the sea. She and Norina had to hack their way through the brush and woods, but when they stood upon a hillside overlooking Long Lake, they knew their search was over.
Elizabeth confided her heart's desire to her father. "My grandfather was shocked, of course," recalls Harry Hartshorne, the grandson of Simeon B. Chapin. "But he supported her beliefs, just like his foundation helped build many churches here of all denominations."    
Mr. Chapin purchased the 500-acre parcel of land from the Myrtle Beach Farms company and gave it to his daughter. Elizabeth, in turn, gave it "from the heart" to Meher Baba, who personally opened the center when he came to see his western home in 1952.
As Meher Baba had predicted years before, it would be strong, independent women who would establish his western retreat for "rest, meditation and the renewal of spiritual life."
Stewardship of the center fell into the hands of Elizabeth Chapin Patterson, Princess Norina, Katherine "Kitty" Davy and Jane Barry Haynes (actress, director and mother of Wendy Connor).
The ladies created an ethereal expanse of woodland trails dotted with resting places to take in the tranquil beauty of the grounds—an ecological wonder that is now designated a South Carolina Wildlife Sanctuary.   
They oversaw the construction of a modest house for Meher Baba, the Lagoon Cabin, where the Avatar could receive and talk in private with people. Also built was a library and reading room, communal kitchens and, in time, a few simple cabins to accommodate guests. For group gatherings, Elizabeth purchased a mule barn in Conway and had it moved to the Center and reconstructed board by board.
Over the years, I have met many interesting members of the Baba community who are business owners, artists, mental health professionals, lawyers and advertising gurus.
I have always asked myself, "What is the attraction? Why have these individuals chosen the path of Meher Baba?"
"If you were to ask 50 members of our community that question, you would undoubtedly get 50 different answers," muses Buz Connor. "It's a knowing … deep inside."
And as I learned from Wendy Connor, it is indeed a matter of attraction.
"My mother was immediately drawn to Elizabeth when they met. When someone puts God first, you are attracted to them. And when my mother and I were in the presence of Meher Baba, it was like he was a magnet, a magnet of love … you just wanted to be near him, to touch him."
In honor of his teachings, the Meher Spiritual Center is a design of forest trails and paths to give seekers the opportunity to commune with the Divine, rather than a building-focused place of scheduled worship. "Do not search for God outside of you," said Meher Baba, "God can only be found within you, for His only abode is the heart."
I have to admit that upon leaving this mystical retreat, I felt energized, had a sense of warmth from all the hugs and was a little sad when Buz unlocked the inner gate to send me on my way. Bobby McFerrin's hit song "Don't Worry, Be Happy" started to play in my head, the title and lyrics borrowed from the words of Meher Baba himself.
At the end of the passageway, another red light beckoned me to stop, and again I was before a fork in the road. Left or right? But as I had just learned from Wendy, decisions are not things we need to fret about. Not to worry, it doesn't matter, because in the spiritual realm of Meher Baba, there are no wrong or right decisions. It has all been pre-ordained; just listen to your inner voice. It is only your selfless intent and motive that matters.
And somewhere in the woods, I lost my urge to shop the mall and shower myself with pretty new things. I turned left.
HOW TO LOVE GOD
Meher Baba
To love God in the most practical way is to love our fellow beings. If we feel for others in the same way as we feel for our own dear ones, we love God.
If, instead of seeing faults in others, we look within ourselves, we are loving God.
If, instead of robbing others to help ourselves, we rob ourselves to help others, we are loving God.
If we suffer in the sufferings of others and feel happy in the happiness of others, we are loving God.
If, instead of worrying over our own misfortunes, we think ourselves more fortunate than many many others, we are loving God.
If we endure our lot with patience and contentment, accepting it as His Will, we are loving God.
If we understand and feel that the greatest act of devotion and worship to God is not to hurt or harm any of His beings, we are loving God.
To love God as He ought to be loved, we must live for God and die for God, knowing that the goal of life is to Love God, and find Him as our own self.
Meher Spiritual Center
(843) 272-5777
www.mehercenter.org
10200 N. Kings Highway
Myrtle Beach, SC 29572
    
Visitors coming for the first time must have a guided tour and be familiar with the Center directives. Following a full tour, day visitors are free to enjoy the Center during the scheduled visiting hours. Tours are arranged by calling the Center during office hours (9 a.m. to 5 p.m. daily). The tour is usually about an hour and a half long. Tours are held on Saturdays at 11 a.m. and Sundays at 2 p.m., but can be arranged on other days as well, if requested at least a day ahead.
Day visiting hours:
2–5 p.m. Monday through Thursday; 2–6 p.m. Friday; 11 a.m.–5 p.m. Saturday and Sunday.
Evening visiting hours: 7:30–11 p.m.
For information on evening programs, see the Program & Events section of the website, or call (843) 361-2252. This information is usually updated every Wednesday afternoon.